Focus on technology change at Elmia Lastbil
4/10/2022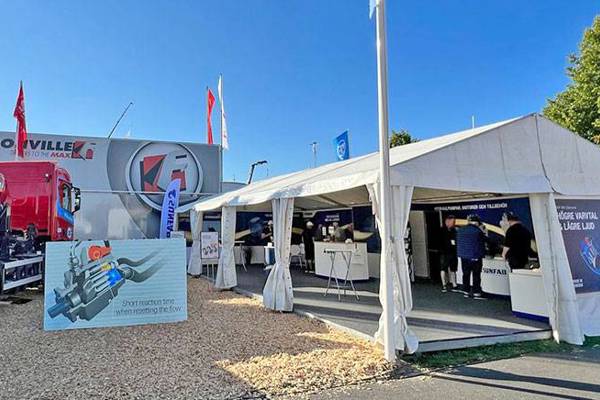 At this year's Elmia Lastbil, the focus laid on the heavy issues, such as the green transition in the industry. Elmia Lastbil, which was held for the 20th time, is the largest truck exhibition in the Nordics and was arranged in Jönköping 24–27 August. This year's exhibition attracted almost 31,000 visitors, where Sunfab participated among over 320 exhibitors.
Technology change and green transition in the industry
The transition that the trucking industry and the haulage industry are in affects just about all actors. Everything from truck manufacturers and haulage companies to fuel companies, body builders and transport buyers. The exhibition had several lectures and seminars with a focus on green conversion, technology change and the challenges of the future.
It was clear among the three major truck manufacturers at Elmia Lastbil – Scania, Volvo Trucks and Mercedes-Benz, that sustainability and electrification are important for development in the industry.
An appreciated point during Elmia Lastbil was the 4,006 visitors from secondary schools and adult education around the country. The shortage of professional drivers and truck mechanics is acute in Sweden and the invitation was part of increasing the industry's attractive force. Another crowd favourite was the 42nd edition of the Nordic Trophy, which this year had around 130 competing trucks.
" For us, the fair is extremely important and a great meeting place. Not only for ourselves but also for our customers and end customers. The response feels very positive", says Hans Fredlund, Sales Manager at Sunfab.


Sunfab develops toward electrification
"At this year's fair, we launched a complete range of our Optimised SAP pump in displacement 012-108 cm3, which previously only existed in the sizes 084 and 108 cm3. The optimised series has a higher speed and a lower noise level than our standard SAP pump. We have had a demand for a pump with a lower noise level, especially in buildings with electric operation, therefore we have produced a complete range of our optimised version.
This is a first step in our development of products towards electrification where we also work actively to develop new products and solutions that are adapted to the requirements and technology of the future", says Johan Sundin, Product Manager at Sunfab.