Sunfab - a Swedish company with global operations
24/4/2017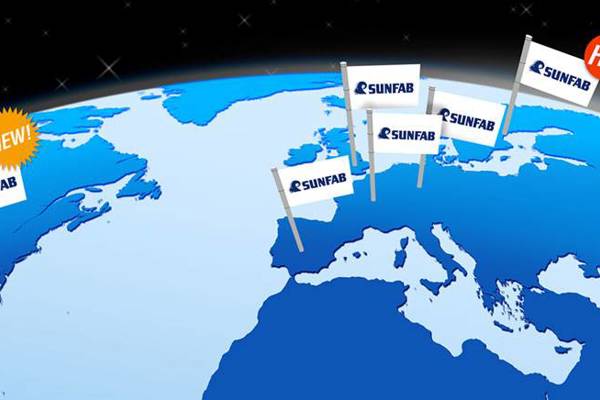 Sunfab Hydraulics sells its products on a global market. As much as 89% of its production is exported. Sales are done primarily through Sunfab's own organization but also via distributors in more than 60 countries.
Sunfab Hydraulics sells its products to more than 60 countries all over the world. Sales are done primarily via Sunfab's own organization which consists of the parent company in Hudiksvall and five subsidiaries with seats in Germany, England, France, Spain and the USA. A significant proportion of the sales is also done via a global network of distributors.
International marketing department
Sunfab's marketing department is located at the main office in Hudiksvall. 14 people work there: sales persons, in-house sales persons, orders and market communication. As of 28 February 2017, Per Olof Ohlsson is Sunfab's new Marketing Director (read more about him under "New Marketing Manager for Sunfab"). 
The department works with overall strategies and the major global direct customers. It also gives support to the subsidiaries and the distributors around the world. In the Nordic countries, there are a number of direct customers who have been on Sunfab's home market for a long time. The marketing department is also responsible for all marketing materials including trade fairs, events, the website and social media. 
Long experience in the market
The person who has worked the longest at the marketing department is Mats Lindstrom, Sales Manager for Eastern Europe (e.g. Poland, Czech Republic, Croatia, Ukraine) and Russia. He also has long experience of the North American market where he has worked closely with Sunfab's distributor. Mats has been at Sunfab for 33 years, 20 of which on the marketing side. 
"I work primarily with distributors but I am also responsible for a number of OEM customers," says Mats Lindström. I see myself as an ambassador for the Sunfab brand when I am out visiting clients. It's a matter of building up confidence. That is important since I often go along with our distributors to provide sales support when, for example, they visit OEM customers." 
Product Manager with sales responsibilities
Johan Sundin is both Product Manager for Sunfab's range of pumps and Sales Manager for Norway and southern Sweden. He divides his time equally between the two roles. Johan has worked at Sunfab for 14 years: two years at the marketing department and 12 at the construction department.
"As Product Manager, it is important to stay up to date as regard what pumps the market will want in the future," says Johan. I am responsible for drawing up a "road map" for the pump programme that will cover the next five years. I am also the link between construction and market. That means I go on a number of trips together with Sunfab's other sales persons. It's important to see other markets and meet customers around the world so you know what is happening," Johan continues.
"In my sales role, I am responsible for Sunfab's distributors in Norway and southern Sweden. In Sweden, I am also responsible for a number of OEM customers that buy direct from Sunfab. 
Kurt - a real "problem solver"
There are few people with more experience with Sunfab than Kurt Jansson. He started working for the company back in 1978, 39 years ago! For many years he worked with assembly, then with orders for 14 years and now he has been at the marketing department for 9 years. Here, Kurt works as an in-house sales person/sales co-ordinator. That means, among other things, that he is responsible for some 50 customers in Asia (not China or Japan), Eastern Europe, Australia and New Zealand. 
"Most customers send their questions and orders by email," says Kurt. "Because of the big time difference, I always start the morning by dealing with the emails from the customers furthest to the east, like Australia, New Zealand and Korea. Then they may have time to answer before they go to bed. The emails are about anything from spare parts for old products to requests for new types of engines. I can almost always solve the problem, even if it can take a little while sometimes," says Kurt.
Other work tasks that Kurt is responsible for are Sunfab's price lists, sales forecasts and different types of statistics.