Agritechnica – the worlds largest agricultural exhibition
12/17/2019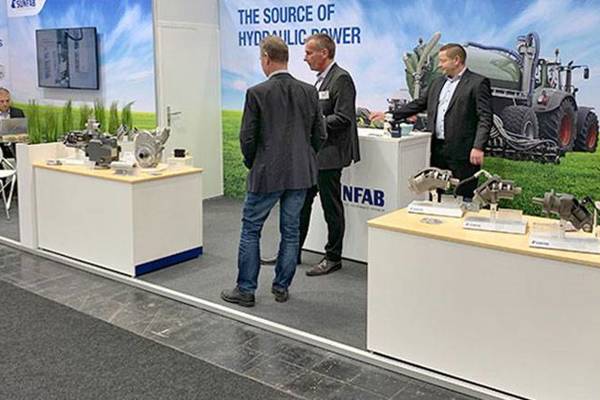 The Agritechnica exhibition in Hannover is the largest agricultural exhibition in the world. This year there were over 2,800 exhibitors from 53 countries participating and the exhibition was visited by around 450,000 visitors from more than 150 countries from all over the world. There was a great interest in Sunfab's booth, both from existing and new customers.
Increased demand for Sunfab's products
This year was our fourth participation with our own booth in hall 17. The demand for axial piston pumps and motors in agriculture is growing continuously and as a result, the number of visitors also increased.
"This is the perfect platform to expand customer relationships and to find new customers. All our target customers come to this exhibition and everything from small talk to technical discussions is here" says Jörg Nettler, Senior Sales Manager at Sunfab GmbH Germany.
"It was nice for us was to see the huge amount of applications that are equipped with Sunfab pumps and motors. We could see our products mounted especially on slurry tanks, pressure regulators, stump grinders and mowers".
Investment confidence continues to be high
Despite varying basic conditions, the mood in the industry was optimistic. As shown by the visitor survey, two-thirds of the farmers, contractors and machinery rings surveyed intend to invest in the next two years.