Back Office – At the heart of things at Sunfab
10/14/2015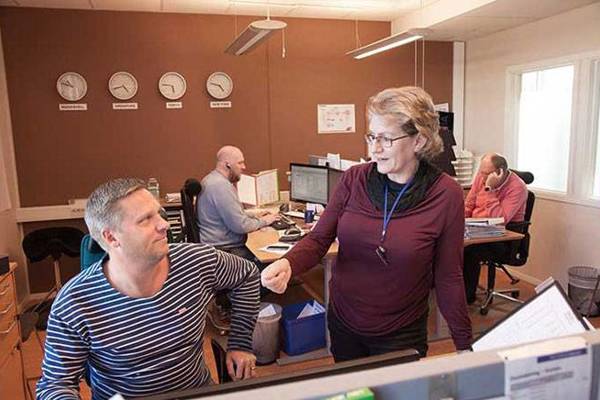 One department at Sunfab is more central than all others – and that's Order/Back Office. The staff here form an operational hub at Sunfab, providing a natural link between customers and production.
Order/Back Office is the department that receives orders from Sunfab's customers. Even if most orders are sent by e-mail, the department also receives many phone calls every day from customers throughout the world. So Swedish, English and Spanish are all spoken here.
Important to keep deliveries under control
"Things move fast and you have to keep track of what you've promised customers," says Anita Söderlund, one of the department's staff of four. "When a customer places an order, first we check whether the product is in stock. If not, we check whether we have the materials needed to build it and whether there's a production window," Anita continues. "If so, a manufacturing order is automatically created and issued to production. That's why we have regular contact with both purchasing and production, to keep track of workloads and anything that may affect delivery times."
Test runs and inspections
Once a motor has been built, it's always tested before leaving Sunfab. A procedure that applies to all units. For larger production runs, regular random checks are conducted to ensure quality assurance. Once an order has been picked and packed, it's scanned into the system. Each unit is allocated a unique serial number on a label for follow-ups and archiving.
We arrange shipping and invoices
"Goods are normally shipped by road, but if they're to be shipped by sea or air, or delivered outside the EU, Back Office staff arrange the shipping," Anita explains. "Once the order has been shipped, we take care of invoicing the customer. We do this on behalf of both the Swedish parent company and the subsidiaries, since we also act as Back Office for the subsidiaries Sunfab GmbH in Germany and Sunfab UK in England."
"You could actually say that we follow the order from start to finish. From registering it in the system through delivery to invoicing," Anita ends.