Bauma 2022 exceeded expectations
12/16/2022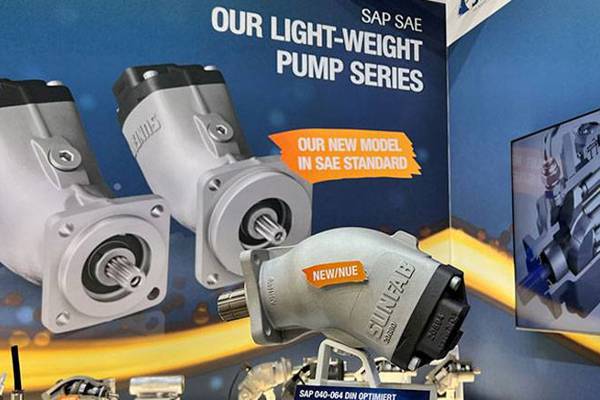 Once again Bauma became the centre of the construction machinery industry, as 495.000 visitors walked the 614.000 square meters of exhibition for seven full days.
Bauma is the largest trade fair in the world and takes place every three years. This year 495,000 visitors came to Munich for the world's leading trade fair was held from October 24 through 30.
A total of around 3,200 exhibitors from 60 countries exhibited everything from construction machinery, building material machines, mining machines, construction vehicles, construction equipment and of course hydraulic equipment.
Greatly surpassed expectations
Sunfab Hydraulics participated at Bauma 2022 after a long break and the reception was fantastic and proved to be a very successful exhibition. Sunfab displayed its renowned range of hydraulic pumps and motors and the interest for Sunfab was great, from both new and existing customers.
In these challenging times, Bauma sent as strong signal that after a long time with cancelled shows and no travel, there was a pent-up need for everyone to directly experience products and hold personal conversations.
"Visitors flocked to our stand from the first minute after the show opened on Monday, and we had a lot of very good meetings and discussions. The overall response was very positive and Bauma was complete success for us", says Jörg Nettler, Senior Sales Manager at Sunfab GmbH.
Electrification was the buzz
"It was clear what electrification was the buzz word at this year's Bauma, and in this time we launched the complete range of our Optimised SAP pump in displacement 012-108 cm3, which previously only existed in the sizes 084 and 108 cm3. The optimised series has a higher speed and a lower noise level than our standard SAP pump. We have had a demand for a pump with a lower noise level, especially in buildings with electric operation, therefore we have produced a complete range of our optimised version.
This is a first step in our development of products towards electrification where we also work actively to develop new products and solutions that are adapted to the requirements and technology of the future", says Johan Sundin, Product Manager at Sunfab.