Keeping the wheels turning in the time of corona (Germany)
6/1/2020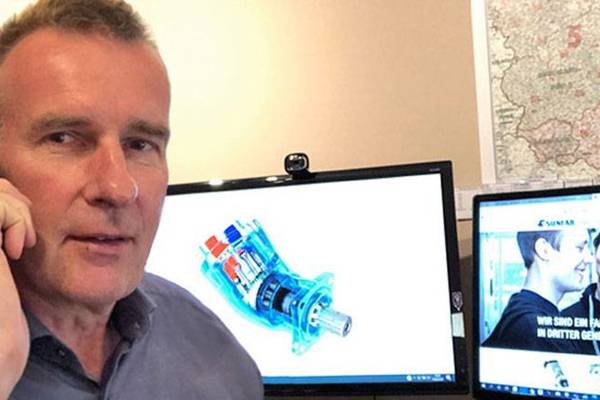 We have asked our employees how the Corona is affecting their daily work in these dire times. Here is an update from Sunfabs subsidiaries. Jörg Nettler, you are our Senior Sales Manager at Sunfab Hydraulik GmbH in Germany.
How is your local market doing under the current situation with restrictions based on the impact of the pandemic with limited opportunities to meet your customers?
"It spreads from higher demand to lower than the start of 2019 but better than 2018. Our customers continue to contact us by phone and mail for inquiries.
We had a dialog with our customers about the current situations and most of them tell us their business is doing ok but a bit slower than earlier. Many companies use the situation and time to better inform themselves about our products and educate their employees."
Sunfab took early action on creating a guideline for all employees due to minimize the spread of Covid19, how have you been able to follow that, any reflections, negative or positive?
"Yes, I'm aware and I follow them strictly and it is a challenge after 8 weeks in home office. I haven't been without personal contact with my customers for my entire working life. But also, I never had so much telephone or video conferences as now. On the positive side I have learned that video conferences are a good alternative and could save time also in the future." 
How do you work towards your customers to ensure that they get the support and business needs as seamlessly as possible?
What do you focus on in your daily work?
"Telephone, E-mail and video conferences more than before the pandemic, instead of visiting customer. And I must say the atmosphere change totally. First and important question is, how are you, is everything well with you your family and colleges, a concern from both sides. Also, this is a completely new situation and relation between customer and me. Every phone call takes much longer than before Corona time. The time saving for traveling to customer I need now in longer telephone calls or longer mails. I keep in touch with our distributors and direct accounts to ensure that all their request for quotes, technical inquiries and other issues are taking care of and resolved in a timely manner."
What is the common view from our customers on their business due to the pandemic crisis and do they feel that Sunfab is supporting them?
"All customers have had problems to receive all parts they needed. Especially if they buy from countries like Italy, China, US or France. And the customers are happy to get fast answers in technical questions, offers and you particularly appreciate our short delivery times. Because most of our customer are focusing on their cash flow and send the order very late. So that they have it just in time. Also, they reduce their stock and calculate with short delivery times. They know you can rely on Sunfab."
Do you have any success story or a happy story from your customer engagements during this period that you have got positive feedback on from customer?
"We get a lot of quotations from customers that normally don't order from us due to lack of deliveries from other suppliers. This provides us with a great opportunity to show new customers our range of high-performance products that we may not have been able to do in normal times"
Is your market recovering and what is going to happen in near future, your feeling of the development?
"These are strange times, anything could happen. Of course, we have been effective by stopped truck production for a while, that have affected our customers with time delays.
We will see a positive effect of those companies that had a production stop last weeks and they all restart now. I'm sure the economy will start again shortly. "
Anything else you would like to say?
"Thank you all, take care out there and stay safe and healthy!"