The Sunfab SAP on new applications in Japan
12/15/2015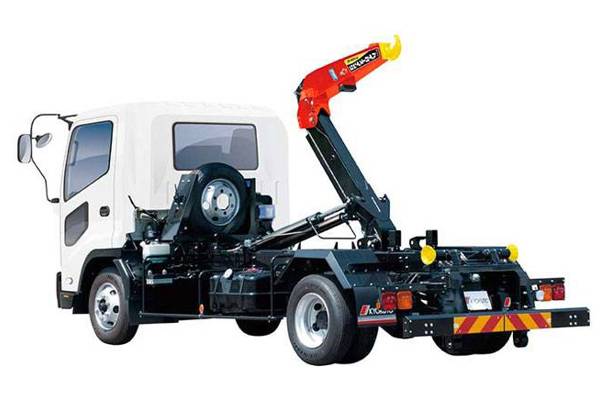 Sunfab's SAP-series of pumps continue to grow on the market, in our last newsletter we wrote about the SAP success on the UK-market. As Sunfab's products are sold worldwide, the SAP-series has also been well received in Asia.
Together with Hawe Japan, Sunfab Hydraulics has been selected to supply Hawe control valves and Sunfab hydraulic pumps for a newly developed detachable body truck.
It's the company Kyokuto Kaihatsu Kogyo that has developed a new 4 ton detachable body truck with improved performance. The new detachable body truck is approx. 13% stronger and approx. 10% faster compared to the old model. In addition the weight has been reduced. The new detachable body truck was launched in October 2015 and the receiving on the market has been well over expectations.
The pump was tested for one year
The Sunfab SAP-047 pump has been selected due to its good performance like high maximum pressure, high rotation speed, low weight and compact design. Before the new detachable body truck was introduced on the market, Kyokuto Kaihatsu Kogyo made extensive testing during more than a year to validate the design. This is the first time that a Sunfab hydraulic pump has been introduced on a Kyokuto Kaihatsu Kogyo detachable body truck and we have great hopes to develop our cooperation for future new products within the Kyokuto Kaihatsu Kogyo range.