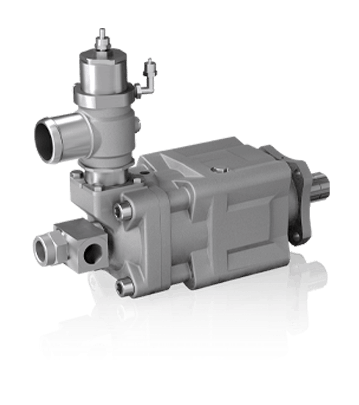 SLPD 20/20-64/32 DIN SAVTEC
SLPD 20/20-64/32 DIN Savtec is equipped with a shut-off valve, this makes it possible to control so that oil only feeds when required.
SLPD 20/20-64/32 DIN Savtec´s valve is available as pneumatic remote control. The signal is obtained from a panel switch or automatically from, e.g. the parking brake, pressure sensor or diode gate.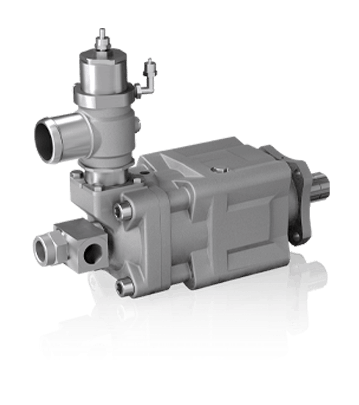 Product Benefits

Independent direction of rotation

A cost effective total solution in relation to a conventional installation using two pumps in a splitter gear box

Smooth operation over the entire speed range

Long life due to high demands on material selection, such as bearings, seals, etc.

O-rings on all contact surfaces as well as double shaft seals eliminate oil leakage from the pump and power take-off

Extremely low noise emission over entire speed and pressure ranges

The Savtec valve can also be used as an emergency stop
Technical specifications
SLPD 20/20-64/32 DIN SAVTEC
20/20
28/28
40/20
35/35
56/28
46/46
53/53
64/32
Theoretical oil flow GPM at pump speed
rpm
500
1000
1500
2.7+2.7=5.4
5.4+5.4=10.8
8.1+8.1=16.2
3.6+3.6=7.2
7.3+7.3=14-6
10.9+10.9=21.8
5.4+2.7=8.1
10.8+5.4=16.2
16.1+8.1=24.2
4.5+4.5=9.0
9.0+9.0=18.0
13.4+13.4=26.8
7.3+3.6=10.9
14.5+7.3=21.8
21.8+10.9=32.7
6.0+6.0=12.0
12.1+12.1=24.2
18.1+18.1=36.2
6.9+6.9=13.8
13.9+13.9=27.8
20.8+20.8=41.6
8.3+4.2=12.5
16.7+8.3=25.0
25.0+12.5=37.5
Displacement
cu in/rev
1.24+1.24
1.68+1.68
2.48+1.24
2.07+2.07
3.35+1.68
2.79+2.79
3.21+3.21
3.85+1.92
Max pump speed
rpm
 
2200
1800
2200
2200
1800
1800
1600
1600
Max pump speed, relieved
rpm
 
3000
2500
3000
3000
2500
2500
2500
2500
Max working pressure
psi
5075
5075
5075
4785
5075
4785
4785
5075
Weight
lb
51.8
51.8
51.8
51.8
51.8
51.8
51.8
51.8
Tare-weight torque (M)
lb-ft
21.7
21.7
21.7
21.7
21.7
21.7
21.7
21.7
Direction of rotation
Independent
Maximum pressure combined with maximum speed is only allowed during intermittent operation (max. 6 sec/min)